I've written quite a bit about images on this blog, and there's a good reason for it – the internet is very much a visual medium. It stands to reason that knowing how to create blog graphics that stand out would be important.
You write your blog posts because you want people to read them, right? So how are you going to get people to find it? Search engines are a big part of it – but so is social media. And people barely notice anything on social media anymore if it doesn't have a compelling image.
Social media like Facebook and Twitter used to be mostly about the written word – tweets, status updates, and comments. But now, even Twitter has changed to allow pictures, and if you aren't adding a picture to your tweets, you're likely losing out on traffic.
I don't even like to retweet posts that don't have an image because people just don't pay any attention otherwise. Really, our brains are just wired to respond to images.
So the question becomes – how do you create a compelling blog graphic?
Just like blog headlines, you want your image to make an immediate emotional connection with your reader. The most successful images that you see in your feed are the ones that are not just aesthetically pleasing, they also make people feel something.
"Well." I can hear you thinking, "That's all great, Kelly – but how do I do it?"
I can't tell you what to take pictures of, or what images to choose from stock photos – but I can give you a few tips.
How To Create Blog Graphics That Rock
To begin with, make sure to use an image that corresponds to the topic of your post in some way. If you're blogging about recipes or crafts, pictures are pretty easy – you take them yourself. But if you have to use stock photos, sometimes you can really think outside the box on this one.
Take a look at one of my recent posts "How to Get People to Read Your Blog Posts". The image I used showed a surfer on the beach, looking out over the water to a city in the far distance. I like that it conveyed a sense of loneliness, which is how you can feel when there's crickets chirping on your blog posts. I added a tagline on it "Tired of feeling all alone?"
While the image had nothing to do with blogging per se – it had that emotional aspect I was trying to convey, because I understand that feeling of being all alone on your blog.
On the other hand, don't use an image just because "I have to use an image". Seriously, I wouldn't think this would need to be said, but I've seen some things lately that just make me want to tear my hair out.
The worst offender lately was a commercial website that was selling office supplies. Instead of having images of their supplies in the post, they used a stock image of a desk (you know the kind, cup of coffee, keyboard, maybe a notepad and a lamp). And then they pinned it!! It had absolutely nothing to do with their business, and they didn't even bother to put any text on it to say what it was for. I wanted to cry.
Don't be that blogger – Use something relevant, even if you have to create your own graphic. Look at the image at the top of this post. My sister took a picture of some office supplies laying on a calendar. I added a blue box and text. You can find tons of free stock backgrounds from sites like Pixabay, or purchase them from your favorite stock image sites. You can also find great images to use on Etsy or on Creative Market.
Here are a few other tips:
If you're taking pictures yourself, make sure that they're well lit. If you have to run it through a filter or touch it up in Picmonkey, do it. Dark pictures don't do you any favors.
Make sure you're using bright colors that draw attention. On Pinterest, that's generally reds, yellows, and oranges. But, it can be more important to be true to your brand. I use a lot of teal and yellow on my images because they are the colors of my blog, and I love them. 😀 Also, although red draws attention, be careful with it. The image compression on sites like Facebook and Pinterest can cause it to look a little janky.
Here are some tools I use for image creation:  
Here are some other posts about creating images:
And finally – It KILLS me to go to a blog and see dinky little images that aren't size optimized for social media! At the very minimum, you should know how to create blog graphics for your post that are optimized for Pinterest.
Here's the current "Best Size" for the images you'll be sharing to social media (Just click on the image to see the full infographic – it'll open in another page).
Social Media Image Sizes Cheat Sheet 2017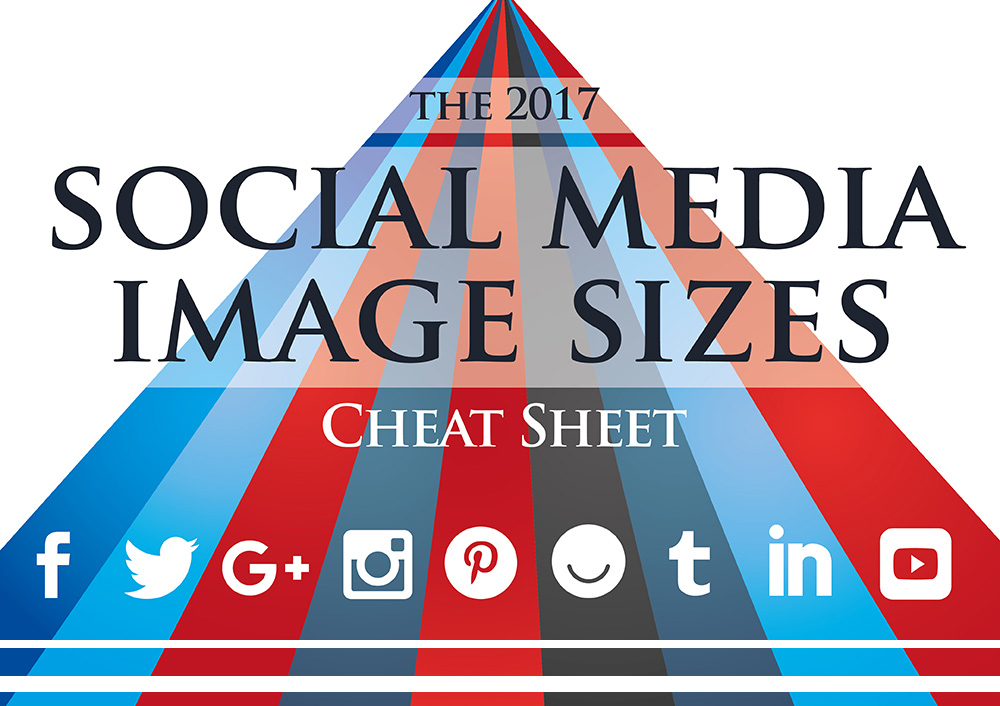 Social Media Images Sizes courtesy of Make A Website Hub
Now, you'd think that would be all I'd have to say about images – and for the moment, you're right. But I'm sure the time will come when another sad little image on Twitter or Pinterest breaks my heart and sends me off on another rant!
Do you have any sad little images on your blog? Why not revise them with what you've learned here about how to create blog graphics? It's easy-peasy to take out an old image and add a new one – then share it everywhere! See if it brings you more traffic.
It's not just about taking action – it's about taking the RIGHT action!
Save
Save
Save
Save
Save